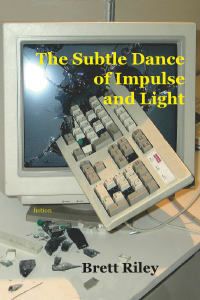 Available at Amazon.com here. Also available through Barnes and Noble here.
"Make no mistake about it: this book should have a parental advisory label on it! Riley is the love-grand-child of Ernest Hemingway and Elmore Leonard and of Jack Kerouac and Gabriel Garcia-Marquez. He is a demonic unmasker of the reader's own dark side, and most if not all readers will be made, at the very least, slightly uncomfortable by the work in this volume, if not driven mad by an insatiable itch to throw the book into the fire but who will remain nonetheless transfixed, as if watching endless repeats of some horrific slow-motion accident replete with blood, gore, and loss of bladder control. This is heady, dangerous stuff. Sweating dynamite."
—Jamie Brown, Editor, The Broadkill Review
This intriguing and often raucously funny collection by Brett Riley marries ingenious plots, innovative forms, and a definite narrative voice, but there's something bigger than all that here, too: the attempt to understand how our own lives fall so far short—and repeatedly fall so far short—of that perfect choreography promised by the technology that tries to shape them.
—Mark Jackson, Book Review Editor, Concho River Review
Brett Riley's fine collection of interrelated stories takes an innovative and insightful look at a classic theme: the sad, maddening—and sometimes uproariously funny—way people get caught in self-created traps, traps they can see clearly and still can't avoid falling into again and again. Readers will, I suspect, experience the discomfort of self-recognition and still manage to laugh. This collection gives us a glimpse into ourselves and our frustrating, heartbreaking, and hilarious contemporary lives—and that, surely, is something first-rate fiction should do.
—Dr. Mallory Young, Tarleton State University and Ink Brush Press
The stories are almost surreal in execution, and many of them feel like a beer-soaked confession on a boat in a muddy Arkansas river: Meandering, hilarious, with brilliant beats of repetition that makes his poor narrator's suffering seem like a joke everybody is in on except him.
—Amazon customer Review