With the recent release of World War Z and the upcoming season four of The Walking Dead, zombies in pop culture are harder to kill than the (ahem) real thing. So are "best of" lists. Even Rolling Stone made a "ten best zombie movies" list, so what follows is hardly original in conception or content. Still, some of you asked for it, so here it is—my list of the ten zombie films you have to see before you reanimate and try to eat your kids. Feel free to disagree, kvetch, and counter-argue. I'm pretty sure I'll forget approximately six hundred movies that should be on this list.
First, a few rules: believe it or not, I haven't seen every single zombie film ever made. I will therefore decline to cheat and put anything on this list that I haven't experienced first-hand (sorry, Fido and Plague of the Zombies; I'll get to you one of these days).
Second, I won't list any movies that are what I like to call "zombie-adjacent"—films in which the hordes often act like zombies but are not, in fact, reanimated corpses. That forces me to leave out several movies I really dig and would still recommend that you see before you shuffle off this mortal coil, come back as a zombie, and spend all your time, uh, shuffling around this mortal coil.
Such movies include 28 Days Later and its good-but-inferior sequel, 28 Weeks Later; Planet Terror, Robert Rodriguez's excellent modern-day grindhouse flick; and the Evil Dead films. I have seen Raimi's trilogy on some zombie lists, though I'm not sure why. Sure, a couple of corpses come back and make trouble, but mostly, it's about spirits and what they do with live bodies.
Other films that are worth watching but have no place on this list: George A. Romero's The Crazies and the 2010 remake starring Timothy Olyphant, two more zombie-adjacent flicks; and Drew Goddard's fine meta work The Cabin in the Woods, which features zombies but also a couple dozen other supernatural baddies.
Third, I can't in good conscience write about anything I saw years ago but was too drunk or exhausted to remember. Thus, at least one staple of zombie top ten lists, Peter Jackson's Dead Alive, doesn't make the cut, through no fault of its own.
You could easily argue that Return of the Living Dead should be on here, given that it is generally credited for introducing zombies that hunger for brains, not flesh (a stereotype that does not hold in most canonical texts) and, according to some critics, the concept of fast-moving, even intelligent zombies. It's fun in its own way, but it deviates so strongly from the visions of people like George A. Romero that I would only be putting it on the list because of its difference. I'd still advise you to watch it at least once, and if you're a fan, feel free to substitute it for either #9 or #10 below.
On to the list…
10.       White Zombie (1932), directed by Victor Halperin.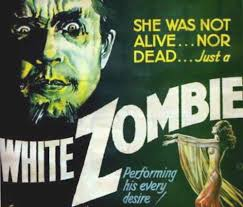 This movie, which many viewers still find creepy, features an interesting performance from Dracula himself, Bela Lugosi, long before he torpedoed his career with drugs and starring roles in Ed Wood movies. One of the taglines: "See them dug from the grave and put to work as slaves to murder!" Set in Haiti, the film locates zombies in exotic locales inhabited by dark-skinned people, which allows for the continuing comfort of the first-world viewer. It also both contributes to and reflects the early 20th century's problematic racial attitudes in ways that later zombie films engage more directly and complexly. Madge Bellamy's very white protagonist, Madeline, is reduced to a zombie slave on a Haitian plantation, providing an interesting wrinkle to any allegorical readings of race. Some critics believe that the movie can be read as an anti-imperialist text; they suggest that the characters' attitudes toward Madeline, the nature of zombification, and the plantation itself mirror Western colonial attitudes. All that is well and good. But this movie is on my list mainly because it is widely considered the first zombie film, and if you're going to delve into the canon, you might as well start with cinema's version of Patient Zero. You might love it or find it cheesy, badly acted, and horribly dated, but you should experience it for yourself before the inevitable zombie apocalypse.
9. [REC] (2007), directed by Jaume Balagueró and Paco Plaza.
Purists may well cry foul here and accuse me of breaking rule #2. They may well be right, and if you think so, feel free to strike this one out and replace it with what you feel is my most egregious omission. I, however, am giving [REC] a pass that I did not give films like 28 Days Later for a couple of reasons: a) the antagonists act like zombies, including through their stubborn refusal to die from anything but a head shot, and b) the film itself leaves their exact condition ambiguous. While the movie pretty much tells us that their illness seems to be viral, such that it can pass from animals to humans, many zombie outbreaks in cinema are similarly sourced. [REC] suggests, near the end, a possible non-zombie cause of the outbreak, and it is often unclear whether the victims are truly reanimated or if their zombie-like condition is merely the last stage of some illness. Enough ambiguity exists for me to include this film here.
And, as horror films go, it's a doozy. A Spanish movie, it may well test your ocular and cognitive abilities while you watch the action and read the dialogue simultaneously. The plot centers on a young female reporter and her cameraman, Pablo, as they cover a local fire company's night shift. When the company answers an emergency call about an ill woman who won't come out of her apartment, the reporter and cameraman tag along, only to find themselves quarantined inside the building as the occupants and would-be rescuers are transformed into vicious creatures that rip into human flesh.
The film is probably best known for its cinematographic conceit. We see the entire film from Pablo the cameraman's perspective; his handheld camera is the only camera used, which immerses the viewer in the characters' experience. We only see what Pablo films; we only hear what he can pick up on his camera microphone. It's unsettling and scary, perhaps even more so than The Blair Witch Project.
The acting here is much better than you'll see in White Zombie or the Romero movies, which you have to grade on a sliding scale. You can't expect Academy Award-winning performances when you're working with an unknown cast and a 73-cent budget. [REC] has more to work with, but it's still a horror film, so don't expect to discover the next Olivier or Brando.
One of the movie's taglines— "Whatever You Witness….. Never Stop Recording"—might well be the basic direction for any reality TV cameraman.  [REC] was remade in America as Quarantine, a nearly shot-for-shot remake. But I would seek out the original and watch it first. Tell Netflix I sent you.
8.         Day of the Dead (1985), directed by George A. Romero.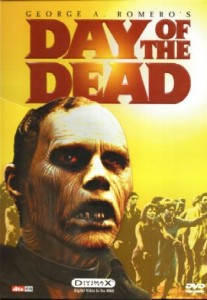 Some zombiephiles feel very strongly that this movie is the second-best Romero entry in the canon. Here, it appears at #8 mainly because I've seen it less than the others and don't feel comfortable placing it higher.
In Day of the Dead, the apocalypse has already happened. The plot focuses on the few survivors holed up in a military bunker. The scientists there conduct gruesome experiments on the zombies as the survivors try, with varying degrees of success, to cope with the realities and tensions of their lives. The scientists are convinced that the dead can be reconditioned, and much of the film is spent exploring zombie physiology and psychology. In fact, much of the fanboy love for the movie stems from the explanations for why zombies eat human flesh and so forth.
That's all well and good, but you'll also be treated to some old-fashioned zombie attacks. Come for the blood and guts; stay for the course on zombie motivation.
7.         World War Z (2013), directed by Mark Forster.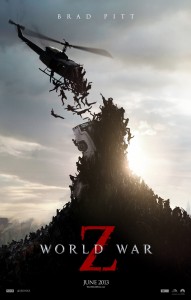 Elsewhere I have already expressed my admiration for this movie's pulse-pounding action sequences, for how it represents an evolution in zombie methodology (the swarming behaviors that mimic certain animals, the idea that zombies can tell the difference between a good meal and a bad one), the way the production managed to snag a prestigious director and star (Brad frickin' Pitt!!!). I have also articulated my problems with the film's character development and its over-dependence on CGI. Plus, there's this issue, to quote Kalene Westmoreland: "a lot of these problems wouldn't have happened if they just had a can of WD-40." Seriously, they spend five minutes talking about how the creatures are attracted to sound, and then they take the world's squeakiest collection of bicycles to the plane? Every door in the WHO facility has to creak like it belongs in a haunted house?
Here, though, the positives truly outweigh the negatives. World War Z lives up to its title; it takes a global view of the zombie apocalypse, demonstrating that these filmmakers truly understand the scale implied in the term. Philadelphia collapses. Israel is overrun. And after all that international carnage, the climax is surprisingly intimate and intense, providing both a break from and a logical extension of the larger issues.
If you haven't seen this movie yet and you're a fan of zombies, action movies, apocalypse narratives, or Brad Pitt, get thee to your local theater. If you have seen it, spread the word.
6.         Zombieland (2009), directed by Ruben Fleischer.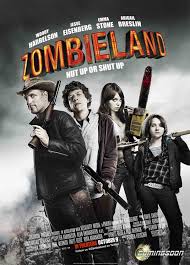 World War Z had an Oscar nominee in Brad Pitt. Zombieland has four: Woody Harrelson, Jesse Eisenberg, Abigail Breslin, and Bill Murray, who plays himself in a hilarious small role. The other major star, Emma Stone, is a Screen Actors Guild award winner and one of Hollywood's hottest young actors. Therefore, if you're looking for A-list acting and recognizable faces, you can't find a better zombie flick than this.
The premise: zombies have taken over the world (or, at least, America). Our young protagonist, Columbus (so named because that's where he wants to go), decides to see if his parents are still alive, so he takes to the road, where he encounters the eccentric, zombie-hating, Twinkie-loving  Tallahassee (Harrelson); the beguiling Wichita (Stone); and young-but-not-helpless Little Rock (Breslin). Columbus has survived because of his "rules," which could double as a meta lesson on what every dumb character in horror films never does: limber up before you enter any unknown territory, in case you have to run. Work on your cardio. Always "double-tap" seemingly dead zombies. Always look in the back seat, etc. Echoing Randy's rules for surviving a horror film as seen in the first Scream, these rules are winking, self-referential, and absolutely true.
Characterization here runs deeper than in most of the genre's entries. We know backstories. We understand motivations. Even though the characters sometimes seem to come from central casting—the sensitive but competent geek, the snarling tough guy with a secretly soft heart, the love interest who might be a femme fatale—they transcend their stock origins and become living, breathing, wisecracking people you will care about.
Zombieland is more funny than scary, although parts of the film do provide genuinely frightening scenes, especially near the end. This is not a criticism. The often lighthearted tone provides a nice counterpoint to the highly serious, doom-and-gloominess of most zombie films. Plus, Zombieland features an awesome soundtrack: Metallica! The Black Keys!
Fun, often funny, and sometimes gory, Zombieland deserves its place in anyone's top ten. If you haven't seen it, prepare to have a lot of fun.
5.         Dawn of the Dead (2004), directed by Zack Snyder.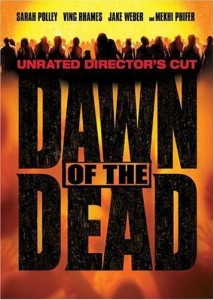 We enter the top five with what is, by far, Snyder's best film to date. Though fanboys and -girls say that Romero's zombie classic did not need to be remade, I really like this movie. Sure, it lacks the social consciousness of the original. Romero's Dawn was set in a mall to critique our out-of-control consumer culture, while this film seems to appropriate the setting merely because it's logically safer than the other options. But you know what? That's fine with me. I still have the original when I want to think. This movie, by contrast, is an exercise in inertia, in pure kineticism.
The cast doesn't quite equal Zombieland or World War Z in terms of A-list prestige, but the actors are all game. Ving Rhames plays, well, pretty much every Ving Rhames character you've ever seen. Sarah Polley provides a strong performance as our protagonist, and Ty Burrell kills as the absolute polar opposite of his Modern Family character. Throw in Jake Weber as an unlikely hero, Mekhi Phifer as a troubled family man, and excellent character actor Michael Kelly as the meanest mall cop you've ever seen.
You like gore? This film's got it. Watch out for chainsaws, dude. You want fast zombies? There ain't no shufflin' goin' on here. You want zombie mob scenes, gallows humor, strong uses of lighting? Check, check, and check. Plus, the worst newborn since Rosemary's baby (well, not counting Trainspotting)!
Bottom line: this film isn't high art, but it's good. When it starts out with Johnny Cash's "The Man Comes Around," you hope the rest of the movie will live up to it. It does. Stick around for the super-bleak ending over the credits.
4.         Night of the Living Dead (1968), directed by George A. Romero.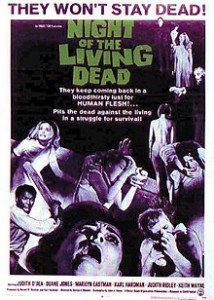 Not the one that started it all, but it sure seems like it. The first Romero zombie flick, it came with this tagline, among others: "If it doesn't scare you, you're already dead!" There's some truth to that.
If you've never seen the film, well, it pretty much establishes the tropes for every other zombie movie you've ever seen. Outbreak of the dead rising and eating the living, with scientists providing, at best, a working theory as to what started it? Yep. A core group of characters thrown together by chance? Got it. Internal strife over how to handle the situation? Check. Our heroes finding themselves trapped and surrounded by the dead? Uh huh. Zombie infestation of the supposedly safe zone? Right. And if you think it took more contemporary texts like Snyder's movie or The Walking Dead to trot out the zombified children, you're wrong.
NotLD starts out in a cemetery, with Barbra and her dickish brother Johnny visiting graves. When Barbra feels creeped out, Johnny says, "They're coming to get you, Barbra!" Little does he know they're real, and they're coming to get him, too. When Johnny buys it five minutes into the film, you aren't sorry, but you've got to feel sorry for Judith O'Dea, the actress playing Barbra, because she has to spend the rest of the movie playing either catatonic or whiny. Throw in the bickering couple Harry and Helen Cooper and the more likeable but also more forgettable young couple Tom and Judy, and you may actually find yourself rooting for the zombies.
The main character, Ben, is extraordinary, considering the time period's attitudes. Played by Duane Jones, Ben is our protagonist, and when the ever-angry Harry Cooper gets out of line, Ben slaps him around until he shuts up. Ben also acts as Barbra's caretaker, and, when Harry finally goes too far, Ben's method of dealing with him is both shocking and inevitable.
Why is all this so unusual? Because Ben is the only black member of an otherwise lily-white cast. Many critics, including one of my grad-school colleagues, have written about NotLD as an allegory for American racial attitudes in the Civil Rights era, and the characters' different generational attitudes toward a strong black man seem to support such readings, as do the searing images of pale-white zombies mobbing Ben throughout the film. The ending's indelible imagery will disturb you, and this, I think, is part of what Romero intends.
Add in to all the social commentary a lot of good zombie action (Romero, of course, only uses the shuffling kind) and some unintentional humor (see the sheriff's hysterical line, "Yeah, they're dead. They're….all messed up") and you've got a film that has fascinated generations of viewers. Much like most of the movies on this list, you shouldn't expect stellar acting or writing, but this one transcends its limitations. See it now, if you never have.
3.         Dead Snow (2009), directed by Tommy Wirkola.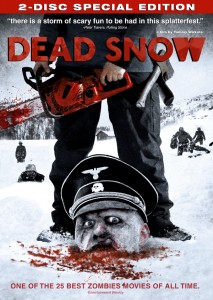 Two words: zombie Nazis. That should be all you need to know about this Norwegian film.
A group of friends takes a vacation to a remote cabin. The one who was planning to ski cross-country through the mountains, alone and at night, never arrives, but soon, a mysterious stranger appears, warning our core group of a local legend about cursed soldiers and missing Nazi treasure. You can imagine what happens next.
Much like Scream, Dead Snow is postmodern in its metatextual references. One of our main characters is a film buff, who immediately recognizes the threat for what it is and warns the others not to get bitten. To say that the plan doesn't work out very well is an understatement.
Unlike a lot of zombie texts, this one often sets the action in the daylight. In fact, the snowy landscape lends a near-blinding sheen to the gore, so that you see nearly every spatter of blood and almost every flesh wound in detail. As plan after plan fails, as the most competent characters succumb, as you view one of the grossest and most hilarious gags involving a crotch in cinematic history, you'll laugh and grimace in disgust, sometimes simultaneously. In tone, it's closer to Cabin in the Woods than Night of the Living Dead; you can decide for yourself if that's good. Just watch the movie. Like now.
2.         Dawn of the Dead (1978), directed by George A. Romero.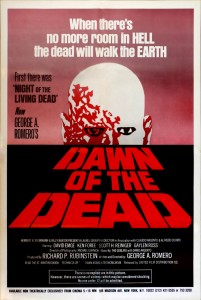 This one is Romero's best, and it's possibly the most loved and respected film in the canon. Starring one of Romero's trademark cast of stars you've never heard of, featuring B-level acting and lines that run the gamut from good to dripping with cheese, utilizing the most absurd and nonsensical use of a blood pressure machine ever, Dawn of the Dead has nevertheless transcended its genre roots.
Like the remake, it's set in a shopping mall. Unlike the remake, the mall here is infested with zombies, who shuffle by the locked doors of the shops our heroes inhabit. The monsters here look not all that different from your typical suburban consumer, and these images likely resonate now more than ever, given how we all do the "cell phone zombie shuffle," staring at our handheld screens as we walk into fountains and trip over potted plants. This critique of consumerism foreshadowed the "more is more," "greed is good" decade to come.
Beyond all the scholarly hooey, though, stands a really good genre movie, one with all the usual trappings plus the addition of a bloodthirsty biker gang that may be more dangerous than the zombies. If Snyder's film is an exercise in pure forward motion, this one is more contemplative, but as a movie that extends what a zombie movie can be and do, it's more important.
Dawn of the Dead isn't as flashy or ironic or bloody as some movies on this list, but you absolutely must see it before you reanimate. And always, always, always pick a good time to check your blood pressure.
1.         Shaun of the Dead (2004), directed by Edgar Wright.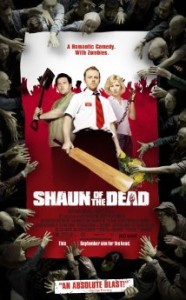 I may well catch some flak for putting this movie on top of my list. I don't care. Shaun of the Dead does so many things at once that it may well be the only movie here qualifying for high-art status.
Is the movie a parody of zombie flicks? Yes, but like the best parodies, it completely understands its source material. Wright and his co-writer, star Simon Pegg, referred to the movie as a "rom-zom-com"—a romantic zombie comedy. It's all that and more. It's uproarious, often at zombies' expense, and yet it is at times a gory, genuinely frightening, tension-saturated zombie movie. It's a romantic comedy; the only thing more important to Shaun (Pegg) than surviving the apocalypse is repairing his relationship with his girlfriend Liz (Kate Ashfield). It is poignant; witness the scenes near the end with Shaun's mother, his stepdad Phillip (Bill Nighy (!!!)), or his best friend Ed (Nick Frost).
Shaun of the Dead is, in other words, several films in one, all of them excellent. It brought Pegg (most recently seen as Scotty in Star Trek: Into Darkness) and Frost a cult following. It led to further collaborations between the stars and Wright in the underrated Hot Fuzz. (Pegg and Frost would write and star in Greg Mottola's Paul in 2011, while Wright would direct the energetic Scott Pilgrim vs. the World without his stars. Wright is now at work on Marvel's Ant-Man movie, of all things.)
If you are among those who have never watched this movie, run—don't walk—to your computer and Netflix it right now, or buy it and watch it tonight. I highly doubt you will regret it.
So there it is, folks, for better or worse: my top ten zombie films of all time. Feel free to post replies or email me with comments, complaints, or praise. And remember—they're coming to get you, so there may never be a better time for a movie marathon. Stay up late and scare yourself silly. Live a little before your spouse gnaws your arm off.
 Follow me on Twitter @brettwrites.
Email me at brett@officialbrettriley.com.